Product Information
PharmaCaribe specializes in hypertonic saline inhalation therapy. We currently offer two different formulation lines of saline products.
2nd Generation Bio-Balanced™ with physiologic pH of 7.4
In 2013, the FDA cleared our 2nd Generation bio-balanced™ patent pending formulation in six concentrations. The patent pending formulations of our hypertonic saline are buffered with sodium bicarbonate to a pH of 7.4 (pH+)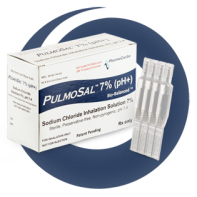 Manufactured to USP Guidelines
FDA cleared in 2010 a line of 5 concentrations of hypertonic saline manufactured strictly to USP guidelines. Currently commercially available in concentrations of 7%, 6% and 3% salinity.